IVF Success Rates
We want to give you the best chance of a healthy pregnancy using the most advanced, proven techniques available.
Please note information on success rates is of limited value in comparing centres and choosing where to seek treatment.
How should we define success with IVF? In our view, the aim of treatment should be a healthy family for a healthy couple or individual.
With this in mind, we will work with you to personally tailor your treatment plan, using the expertise which underlies our excellent records of success in IVF, the highest standards of evidence-based care and state of the art facilities. We also have a very low multiple birth rate of 1.2% 2019.
2019 - 2021 Success Rates
Our latest success rates that are not yet confirmed and verified by HFEA.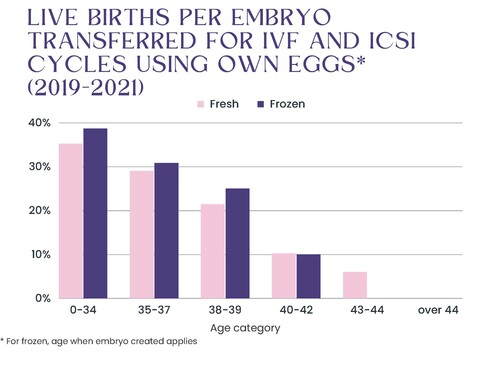 IUI

Donor Insemination
Our data is provided to the HFEA, the UK Government's independent regulator overseeing fertility treatment and research.
Complete Fertility Centre Southampton success statistics are displayed on the HFEA website.
The HFEA website offers advice on how to choose a fertility clinic and considers other factors including compassionate staff, clear pricing, the clinic's opening hours, location, access to a female doctor and exceptional emotional support.
Clinical Pregnancy Rates
Our success rates are expressed as the proportion of clinical pregnancies per embryo transfer procedure. All clinical pregnancies are confirmed for foetal heartbeat by ultrasound scan.