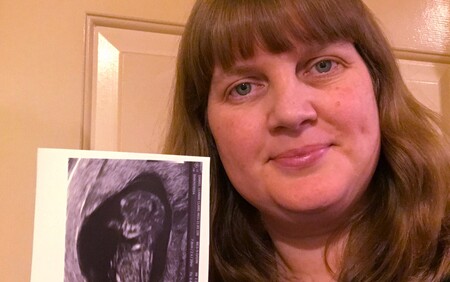 Leanne's story
Leanne, single lady who became pregnant by IVF with egg and sperm donation.
"Throughout everything the staff at Complete have all been so amazingly professional, supportive and kind. They helped me get through it all and genuinely care. I cannot thank them enough. I'm now looking forward to welcoming my little miracle."
My story
I have been on a long and emotional journey with Complete Fertility. My first appointment was in 2012, and six years later after IUI, IVF and finally IVF with egg and sperm donation I am looking forward to welcoming my little miracle.
I've always wanted to be a mum, and I assumed I'd be able to have a baby one day, just like most people do. But by age 25 I had a long list of health problems; Fibromyalgia, Hypermobility Syndrome and Chronic Fatigue to name just a few, and I was learning that my problems and intimate relationships just didn't mix.
By age 28 I realised I didn't have much choice but to remain single, but I still desperately wanted to be a mum. I knew fertility treatment would be the only way for that to happen, and at the age of 31 my parents, who I still live with, offered to help make my one and only dream come true.
My first concern was that I'd pass my health problems on to my baby. After seeing my GP it was determined there was very little chance of that happening. So he gave me his blessing and wrote me a referral to the Complete Fertility Centre, my chosen fertility clinic.
Their website stated they would help single women, and after attending an open evening and meeting the staff I felt very happy with the clinic.
First appointment
At my first appointment with Mr Brook I explained my circumstances, health problems and why I was single. I was half afraid he'd refuse to help, but he made me feel so welcome and was determined to do his best to support me. He told me it wasn't my fault I had all my problems, and that I still had as much right as anyone else to have children.
The first steps were blood and pee tests to check for any issues which could affect my chances of a healthy pregnancy and baby, and that I had plenty of eggs in my ovaries.
I was then due to have a hycosy to see if my fallopian tubes were clear, but due to unexpected problems with my cervix it wasn't possible to check that way, so I had a laparoscopy. The good news was my tubes were clear. The bad news was they found endometriosis and a large dermoid cyst attached to my left ovary. A second laparoscopy treated the endometriosis and removed the cyst, and since they had managed to save my left ovary, it was decided I would have IUI.
Everyone expected I'd get pregnant quite quickly, after all, my main problem was the fact that I was single and needed donor sperm, but I had a feeling it wasn't going to be that easy, and I couldn't have been more right.
My first IUI failed, then my second and third. It was deemed unlikely that further tries of IUI would work, so next I tried IVF. Again my first, second and third tries weren't successful. Each time I only had one or two embryos to implant on day three and nothing left over to freeze. With each cycle there was an obvious decline in the quality of my embryos. By this time I was over 35 and I'd had six failures over four years of heartbreak. I was exhausted and miserable. It was clear that further tries with my own eggs would not succeed.
Facing the reality that I'd never have my own children was devastating, and I didn't know how I was going to accept being childless.
Donor eggs
I knew having donor eggs was an option. Initially, the choice of whether to continue with donor eggs was a difficult one. I wasn't sure how I'd feel about it. Would I feel like a surrogate mother? Would I bond with a baby who wasn't genetically related? Would I feel like the baby wasn't mine?
I thought long and hard about it and spoke to the doctors, nurses and counsellors at Complete. They helped me realise that in all the ways that truly matter the baby would be mine, and new research suggests that the RNA in my womb would make its own unique selections from the baby's DNA. I would be growing and creating this life, birthing and then raising this child.
So I had another laparoscopy to treat the endometriosis again, and waited for a lady donor.
When I had my first full donor cycle I felt more confident than I had in years. I thought that an embryo from two healthy donors would solve whatever problems were preventing my success.
Unfortunately though, my first full donor cycle failed, as did my second.
Aged 37 my parents offered me one final try, but I had no confidence left. I needed to know why nothing was working. I asked Professor Cheong for further tests, as there had to be something else wrong, but these came back normal.
However, Professor Cheong suspected I had adenomyosis, a condition where the cells of the uterine lining grow into the muscular wall of the uterus. She recommended 'down regulation' and acupuncture.
So with all that in place, and securing another lady donor, I started my last try. After my ninth, agonisingly long, two week wait I took a pregnancy test.
OMG there was a second line for the first time! I was in total shock. A blood test confirmed it, there was a little heart beat at my early scan, and my scan at 11 weeks showed a healthy and very active baby.
"Every single member of staff at Complete was so excited and happy for me, there were a lot of hugs and tears. Throughout everything they have all been so amazingly professional, supportive and kind. They helped me get through it all and genuinely care. I cannot thank them enough. I'm now looking forward to welcoming my little miracle."