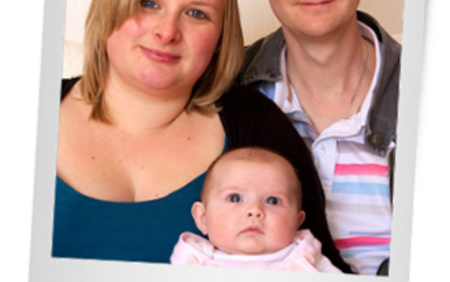 Janine and James' story
After trying for a baby for a year, Janine and James from Southampton decided to visit their doctor to discuss their fertility.
Never give up and keep believing
Janine and James both had fertility tests and whilst Janine's results showed normal fertility, James' were abnormal.
Janine and James were referred to Complete Fertility Centre Southampton. Here patients have access to world renowned fertility experts and the latest research-based developments in fertility medicine.
Six weeks later the couple met with Mr Nick Brooks, Consultant Gynaecologist, who has over ten years fertility experience. Mr Brook carried out further tests on James and diagnosed him infertile due to Kleinfelter's syndrome, a condition that affects a male's fertility due to an extra X chromosome.
Mr Brook suggested using donor sperm and Intra Uterine Insemination (IUI) to help Janine and James conceive. IUI is a treatment whereby specially prepared sperm are placed directly into the womb at the time when eggs are being released. Production of eggs is helped by the use of fertility drugs. When a woman is about to ovulate, the most motile sperm will be used for insemination. For James and Janine the sperm would be from a donor.
Mr Brook explained the process fully; it's success rates and timescales to Janine and James. As they longed to have a baby they decided to give donor sperm IUI a try.
Decided to try Complete
After researching other fertility centres Janine and James decided to progress their fertility treatment at Complete Fertility Centre. They felt reassured by the friendly and helpful staff they had already met and it was also favourable in price.
Janine and James's donor was chosen from Complete Fertility Centre's sperm bank, the largest sperm bank on the South Coast. They chose a donor that best matched James's characteristics and interests. They felt extremely grateful to the donor for helping to give them a chance to achieve their dreams.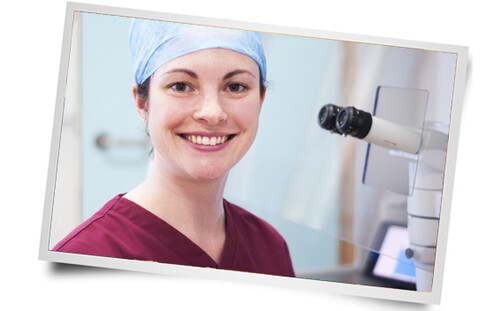 Mr Brook said "The donation of sperm and eggs is a generous and positive act that enables women and couples to achieve their only hope of having a child. The HFEA has just made changes relating to donor payment and Complete Fertility Centre Southampton will now reimburse sperm donors £35 for each visit they make to the Centre and egg donors will receive a total of £750."
In December 2010 Janine and James commenced their fertility treatment. They had mixed feelings of excitement and nervousness about the process and its potential outcome.
Janine had two types of injection. She had one injection every day to stop her ovulating and another injection every other day to stimulate her eggs. Janine and James visited Complete Fertility Centre every 2 or 3 days so that the development and size of Janine's eggs could be checked. They got to know the fertility nurses Anne and Jane during their regular visits that were always very supportive. Within 2 weeks of starting the treatment Janine had 2 eggs that were the correct size. She was given an injection to release the eggs and 38 hours later she had her first insemination.
Pregnant
Two weeks later Janine had fallen pregnant. Janine and James were so excited that it had worked first time. Sadly they had what is termed a chemical pregnancy that means a very early miscarriage and they were deeply upset.
Two months later they decided to have another try. Unfortunately the second attempt failed and so did the third. This was very disheartening for Janine and James and they nearly gave up but for the support of the staff at Complete Fertility Centre and they decided to give it one more try.
The fourth attempt was successful and Janine and James were very excited about the pregnancy but also very anxious and scared of losing this one too. Seven weeks later they had an ultrasound scan that confirmed the pregnancy. Janine and James felt their anxiety relieved a little. As the pregnancy progressed they couldn't believe that it had happened to them after all this time.
On 17th January 2012 Janine gave birth to a beautiful baby girl called Katie-Lily at the Princess Anne Hospital. A unique feature of Complete Fertility Centre is that it is located within the Princess Anne Hospital so that patients can enjoy continuity of care and a sense of familiarity.
Going through this process has made Janine and James stronger as a couple and they appreciate life more fully in general.
Janine said "We are so grateful for the Centre's help in achieving our dreams of having a child and so thankful for the donor who without we would not have our beautiful baby girl who is now 11 weeks old."
James added "Our advice to anyone who is in a similar situation is to never give up and keep believing. We will definitely be using Complete Fertility again in 18 months' time and we strongly recommend it to anyone in this situation."