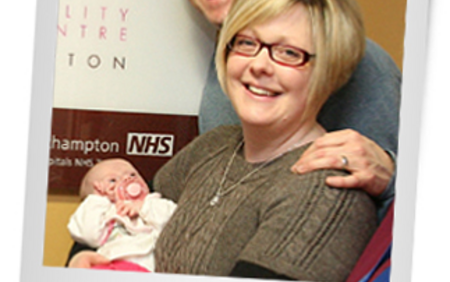 Emma and Richard's story
She is their little miracle that they feared they would never have.
For five long years Emma and Richard Bryant yearned for a little brother or sister for their seven-year-old daughter Imogen.
Pioneering centre
When Emma and Richard discovered that some of the world's leading fertility experts had recently launched a pioneering centre in the heart of Southampton, they knew it was their best chance to complete their family.
Now nine months on and only one cycle of IVF later, the Bryants have celebrated the arrival of their beautiful baby – one of the first births to come as a result of the innovative and personally tailored treatment offered at the state-of-the-art Complete Fertility Centre.
Emma said: "I would recommend this centre to anyone having trouble conceiving because the care and treatment we have received has been fantastic. We have been so lucky to have this on our doorstep. Ellena is our little miracle."
Having conceived their eldest without problem, the couple were devastated when they discovered Emma suffered from cysts on her ovaries and endometriosis, which despite two operations, prevented a natural pregnancy.
Having been treated at the Princess Anne, the couple were referred to the Complete Fertility Centre based at the hospital, which boasts some of the most advanced laboratories in the country, treating both private and NHS patients and offering all fertility treatments, including IVF.
Teaching hospital
A unique feature of the centre is its location within the university teaching hospital, giving the centre direct access to all the other services the hospital has to offer. It allows patients to enjoy continuity of care from familiar faces, as well as access to the latest developments in fertility medicine and technology from research carried out in the city – not something a standalone private clinic can offer.
Emma, 37, and Richard, 40, from Rownhams, started their IVF in March.
Unlike many fertility clinics, Complete tries to give patients mild stimulation, which means softer, shorter and much less stressful hormone treatments.
Rather than numerous hormone injections over a six-week period with the aim of producing the most eggs possible, mild stimulation involves fewer injections over a fortnight. And although fewer eggs are produced, the clinic believes these will be of a better quality, boosting success rates.
Shorter, less stressful option
Julia Paget, senior embryologist, said: "It is very stressful to go through fertility treatment but we offer a shorter, less stressful option. Evidence shows it is better to have fewer eggs of a better quality, rather than push out as many eggs as possible, including bad ones."
For the Bryants just four eggs matured and just two fertilised, leaving them little hope their first cycle would be a success.
But to their amazement one did work. On Emma's birthday in April doctors confirmed she was pregnant and on December 7, Ellena became the third Complete baby to be born.
Emma said: "It wasn't looking very positive when the scan revealed we only had two, so she is our little miracle. We were in shock because it had been a traumatic journey but when they confirmed the pregnancy we were over the moon.
"It was lovely to have the same team help us through the treatment, from my surgery right through to having Ellena at the same hospital, because it has been a rough ride and sometimes we would question if we were doing the right thing. But to see the same faces always there to raise our spirits, was brilliant."
Dad Richard added: "Having this centre is great because you get an all in one service and we cannot thank them enough."
Listen to what Emma and Richard had to say about their experience of Complete Fertility: